Making The Next Leap
March 4, 2011 | By Kelley Koehler | Filed Under Odds and Ends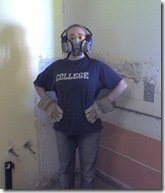 I remember deciding to remodel my kitchen. I mean, totally tear out the kitchen and start from scratch.  And, having never done any remodeling before in my life, I did what any sane person would do: I took a sledgehammer to the walls and read a book about building your own cabinets.
Turns out, I'm good at figuring things out. And I'm not a bad cabinet builder either.
I remember deciding to put concrete countertops on those cabinets that I had built – I read a book about it.  How hard could it be?
You know the hardest part about do-it-yourself concrete countertops? The first shovel full of concrete.  Right before you dump that first shovel full, the first shovel of the three quarter tons of concrete you'll shift that day, you stop.  And you realize what you're about to do is completely irreversible, and you've never done a single concrete project before in your life.
It's a recurring theme in my life and my various careers.  Leaping into big things, making big changes.  I get antsy, doing the exact same thing for too long.  That's how I know when I'm ready for the next leap, when I'm ready to learn something new and take on a set of entirely new challenges.
So it's time for the next leap.
I'm landing with a company called Zeek Interactive, a web development shop over in Southern California, run by a couple of people for whom I have a great deal of respect, and who are in need of a project manager and software tester and overall organizer of things.  I'm hoping there'll be some fun with analytics and optimization along the way.
Which means I'm leaving real estate sales for the time being.  If you've got a saved property search, I can help transfer that to another agent in the area with the same search.  And if you were wanting my help to buy or sell, I would be delighted to give you references for a handful of agents in Tucson that I trust implicitly.
I'll still be around.  Probably not as Housechick anymore, but I hope it wasn't the catchy name that drew us together in the first place.  You'll more likely find me over at my new little blog, kelleykoehler.com.
It's been fun.  I don't regret for an instant leaping out of engineering and into real estate.  Thank you to everyone who taught me so much about the business, about real customer service, about the highest standards of ethics and integrity.  Thanks to those who taught me patience, who taught me how to tread lightly in stressful situations, and who honored me with their trust.  Thank you to those who told me no in a million different ways, and to those who had the faith in me to say yes.  Thank you to those who taught me how to recover from disappointment, and to those who allowed me to share their joy, their families, and their lives.
And thank you, most of all, to those amazing folks who trusted me to help with one of the largest, most stressful, personal events we experience in this modern life – buying and selling our homes.  Without you, I'm just a girl with a silly nickname and a whole lotta for sale signs.
It was an honor.  Thank you.
Comments